I have noticed over the years that as I lean into and away from certain design trends that many in the industry have similar thoughts. I believe it's because we are inundated with the same looks for several years that we begin to crave something different. Here are a few of my favorite design trends for 2023.
A Vintage Mix
Traditional decor is coming back, dark wood and all. One thing I always do in my own home is mix contemporary and traditional. It's a way to extend the longevity of a room and give it a unique character. I paired my chinoiserie wallpaper panel with modern buffet lamps to balance the look of the room. It's also easier to change things out a few pieces that aren't your style any longer instead of redecorating an entire room.
Moody Rooms
My house is light and bright so you may be surprised that I love a dark, cozy room. Here is a media room I designed for a client that's perfect for movie nights. Keep in mind the entire house doesn't have to be dark. Think about the vibe you want for each room. I usually suggest darker rooms for media rooms, master bedrooms or studies.
Remember the wet bars from the 80s? Everything comes back in style, but usually better. This is no different. The bars are bigger with high end finishes and many have seating for guests. My prediction is that they will be combined with a TV area and/or pool table for entertaining. I do believe this means media rooms will not be as popular in new builds.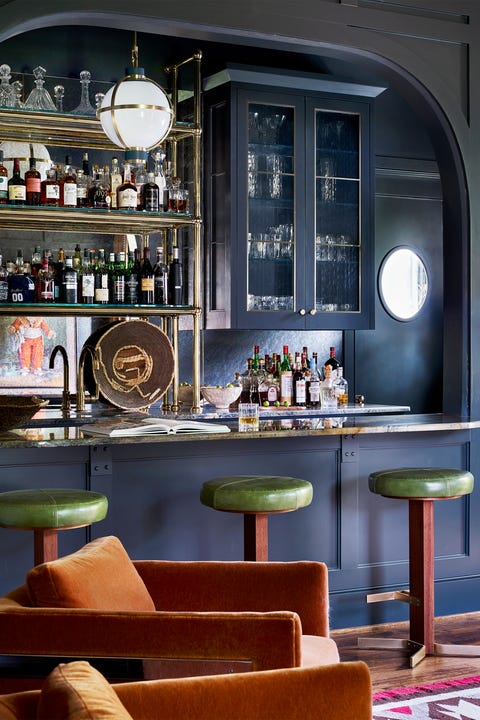 House Beautiful
Wainscoting, paneling, wallpaper, stone, beams, crown moulding, etc. elevates every room. I used shiplap and wallpaper in my laundry room makeover. The great thing is that it doesn't matter what your style is because there is a finish that will fit it.
Mass Produced Pinch Pleat Curtains
I am so excited for this one! I have been saying for well over a decade this needed to be a thing. Previously, pinch pleated curtains were only custom made. I finally found non-custom pinch pleated curtains for my breakfast room on Amazon. I'm finally starting to see more pop up all over the internet now.
Many have been saying they don't need a formal dining room for several years because they go unused. I am not completely on board with that. I would personally give up my breakfast room first since I already have island seating. Regardless of preference, only having one dining area has become a request of many of my new build clients so they can use that square footage elsewhere.
Design Trends I Would Like to See Go Away...But Probably Won't
Corner Fireplaces
-If price were no object or we were
staying
here longer, I would center the fireplace on the wall. It
would
give us so much more room and the furniture would be much easier to arrange.
Extreme Open Concept Spaces-I cannot tell you how many times I have had to mute the TV when someone is banging around the kitchen. There is only about ten feet between the sofa and the kitchen sink. I do like the look of an open concept to an extent, especially in smaller homes so it doesn't feel closed in. However, there does need to be some thought put into how these open rooms function. FYI, they are all like this where I live.
These are of course just my predictions and opinions. I also predict that after a winter of straight leg and flare jeans getting wet from rain and snow that Gen Z will regret throwing out their skinny jeans. Sometimes jeans just need to go in the boots!