When you've been to Rome before, what do you do when you return? Shop, eat and drink on a rooftop. Oh, and throw a coin in the Trevi Fountain to make sure you return if you believe the myth. I actually forgot to do this!
You can easily find the top sights in Rome with a quick google search so I won't go through all of them. I will tell you my favorite things to do instead. Our friends aren't really interested in touring historic sights, thank goodness since we've seen them all. We did a quick walk-by of them to take a photo outside. It took all of one morning and our first evening there. It's a good thing since we only were there two nights.
Spanish Steps
Honestly, I considered this a brief stop on our way to the Amalfi coast. I didn't enjoy Rome that much when I went last time, but I liked it better once I planned the trip for things I like to do instead of what is expected of me as a tourist.
This was the nicest hotel in Italy that we booked. It also happens to be across the street from where I really wanted to stay. We had to watch our budget since we were in Italy for two weeks. I did the next best thing and booked a restaurant reservation at my favorite hotel. You can also go to the bar at the fancy hotels without staying there.
Our hotel had an amazing rooftop bar. You will need reservations if you go at popular times. We went before dinner two nights in a row. It really was one of our top experiences in Rome.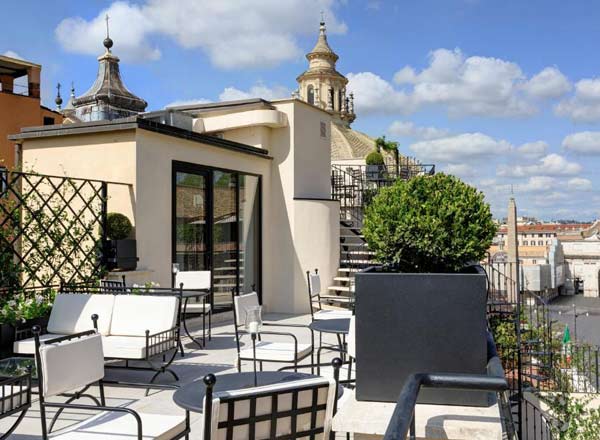 Since we saw all of the top tourist attractions by late morning on our first and only full day in Rome, it was time to enjoy a nice lunch and then shop! I didn't really need anything so I really thought it would just be window shopping unless something just grabbed me. I found lots of beautiful things that I would never wear or just didn't need. We also have most of the stores in Houston, albeit at more expensive prices because they are imported. I did get excited that there was a Pucci store, which I have never seen. I have always admired Pucci swimsuits, but never bought one because I feel like it's something I need to try on first. I happened to find one at the store I just loved, and it was almost half the price in Italy. I felt a little guilty buying the matching pareo, but I had to buy it because it matched. Plus, I never get rid of my swimwear so I knew I would regret not buying it.
I wore it the first day we were on the water in Capri. I folded it in half to make it short since it was so hot, but I like that I can wear it longer too in case I get too much sun on a trip. I'm not usually a fan of triangle tops, but this one is so comfortable.
That night we had dinner across the street at Hotel de Russie. The great thing about the location is that we were able to wear heels for the first time on the trip.
The hotel's photo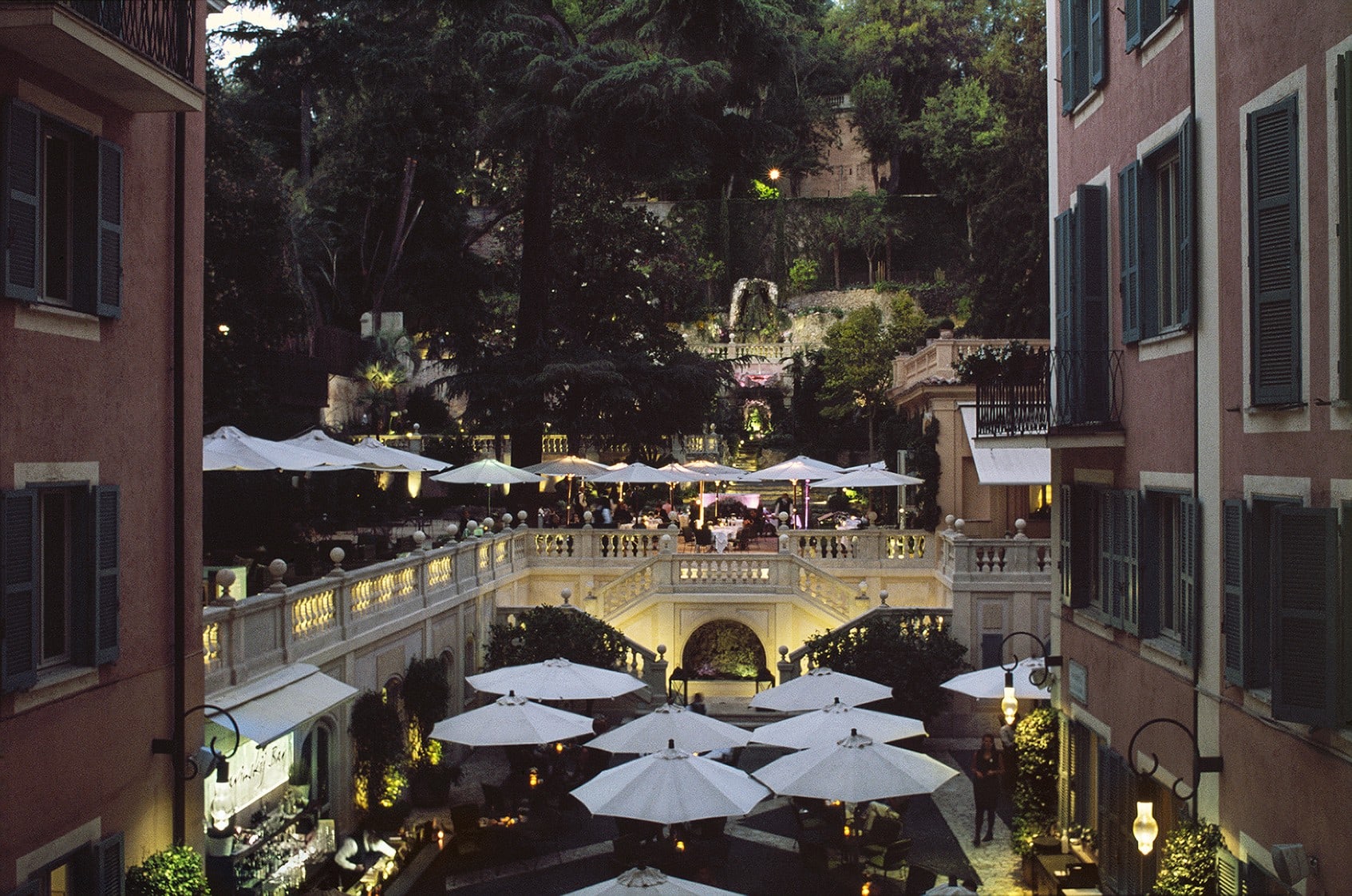 My photo. They win.
Can you believe my outfit is from Express? It reminded me of Dolce and Gabbana so much that I thought it would be perfect for a more formal dinner.
Another beautiful plate from Ginori!
Heavily edited photo due to shadows. I'm not going to let shadows ruin my photo!
The next morning we went on a walk before we left for Capri.
Piazzo Popolo-We had to roll our suitcases through here on the way to our hotel because there was a taxi strike for two days. I can't say I look upon this piazza fondly.
Borghese Gardens-We missed this last time and I was excited to see it, but honestly it was a bust. Most of it isn't taken care of well. These were the only picture worthy shots.
I took a photo of the door of our hotel as we left that morning. Almost all of the doors have these studs on the bottom. I wonder if this is where Valentino got his inspiration for rockstuds?
We actually had a good time in Rome, which I wasn't expecting. I think the nice hotel with it's rooftop, the shopping experience and the dinner at a restaurant I've always wanted to visit made the difference. It may not be the top things to do as a tourist, but it is what all of us wanted to experience. Thankfully, we have traveling companions that have the same interests as us. Well, they didn't want to go to the Borghese Gardens so we split off that morning. That's also okay. Actually, they made the best decision because it wasn't that great!
Our next leg of the trip is my favorite, the Amalfi Coast!