For the past couple of weeks we've been taking turns getting a stomach bug around this house. This week it has been mine turn. Lucky me. I can't complain too much since we had an almost illness-free fall and winter. It's been so hard to be off of work and not be able to complete projects staring me in the face.
So, I turned my attention to something that has been bugging me, but doesn't require any DIY. It's my leather sofas. I am grateful to them for being able to last eight years with three really, really rough boys. Anything we spill can be wiped right up, the cushions have kept their shape, and there are only two superficial scratches on them. Amazing, right? I can't say I've ever loved the look or feel of them. Every time I see a picture of my living room I groan a little because it's not my favorite to say the least.
The latest picture
I've removed the rug since then because the sleepy little fur ball in the corner decided to "mark it" as his own. The rug has lasted us a couple of years and I really wanted something with a little pattern to it anyway. It didn't break my heart too much to see it go. I'm not going to replace it yet because I want to make sure Mario is completely housebroken before getting a new one. He knows what to do so it's a battle of wills right now. That means a lot of standing outside in the dark with him while we stare each other down to see who will break first. As soon as he does his business he runs to the door because he knows that's what I've been waiting for before we go inside. They aren't named shih-tzus for any old reason!
Anyway, I do like the way the paint color lightened up the room despite these big, brown sofas.
I could still get a new rug, accent furniture, and some badly needed new accessories to make it so much better. Almost everything in this room was around when my 10 year old was a toddler. Yikes! I haven't invested in much because I hate decorating around something I don't really care for, and I went through a "I don't care" stage when I was really overwhelmed with taking care of three kids. I'm even more overwhelmed, but I'm just dealing now and moving on, lol.
So, I started my hunt for a fabric sofa yesterday. I love this one from ZGallerie.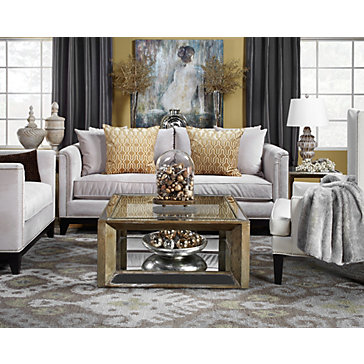 I've sat on it and stroked it lovingly in the store. I also like this one, too.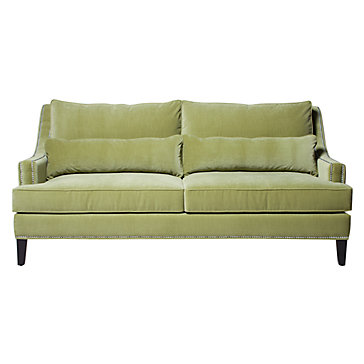 Cute, cute, cute! But, the fabric has me worried with three boys. One spill and I'll be in tears. I decided I really should get a slipcovered couch. Ugh! I love the way they look when perfectly put on and ironed, but the wrinkles annoy me to death. It's like a duvet cover. It's great when you first get it. You iron it and spend an ungodly amount of time getting it just perfect, but then you just wash it and throw it back on the bed a wrinkly mess. Or, maybe it's just me? I decided it's slipcovered or leather because I know it makes sense. Slipcovered wins! I'll just have to figure out the wrinkles later. Maybe a garment steamer?
I looked at slipcovered sofas at Pottery Barn, Ballard, and Ikea online yesterday. I already nixed Pottery Barn's sofa in my head because I wasn't impressed at the unstructured cushions when I saw it in the store a couple of months ago. It could have just been that particular style, but I want to touch it and sit on it to make sure they aren't all like that. The floor models are pretty limited at our store so I knew that probably wouldn't happen. So, I decided against Ballard Design's sofa too since I would have to order it sight unseen. I know Ikea's sofas like an employee, lol. I read a ton of reviews yesterday and decided the Ikea Ektorp is my best bet. Yay! A decision in one day. Unheard of, for me! Now, on to the color and style.
I immediately made eyes at the white even though I know the gray makes more sense. But, I don't want another dark sofa. Hmmm...Then, I read that people buy the white with every intention of dyeing them to the color they want. Now, that's interesting. So, I decided to buy the white and try it out. If it gets dirty too fast I can dye it or buy a new cover since they are so cheap. The style is what has me stumped. Do I get the sectional, or sofa and two chairs? I measured it out and the sectional is a little small for my room. My living room is a decent size despite it looking little. I think it's the low ceilings that has even me fooled. I like the idea of a sofa and chairs because I can move the chairs around unlike a loveseat. Plus, how many times are you sitting a little too close to someone on a loveseat and it makes you a little uncomfortable? I like having my own chair so I don't have to worry about kicking or elbowing the person next to me by accident. But, I love the idea of stretching out on a sectional.
or
Decisions, decisions! My husband happens to work a mile down the street from Ikea and wants to pick something up today! Yes, today! I'll keep you updated!