I have come across some great deals lately and naturally I'm going to share them with you!
If you've priced sunburst mirrors they are at least $100 for a decent sized one. If you follow me on facebook you probably remember this Martha Stewart mirror from Home Depot I posted about. Don't be fooled by the $34.99 price tag, it's a good size at 30" x 30".
Allen + Roth Black Faux Fur Pillow Cover, $7.95 (at Lowe's)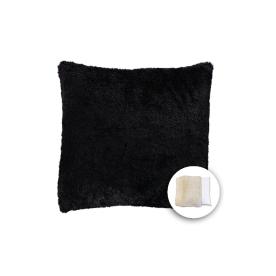 Can you believe both of these came from home improvement stores? I may or may not have bought both of these for my master bedroom redo. ;)
My favorite deals are when I find something identical to something I'm considering buying at a much cheaper price. Check out these look-alikes.
West Elm Pin Tuck King Duvet and Two Pillow Shams, $187.00
Bargain: Target Threshold King Duvet Set with Two King Shams, $79.99
What's the difference? Target's duvet set is 215 TC and West Elm's set is 230 TC.
West Elm Navy and White Striped Queen Duvet with Two Shams, $99.00
Bargain: Target Navy Striped Queen Duvet and Two Shams, $29.99
What's the difference? Target's duvet set is 180 TC compared to West Elm's set that's 200 TC.
I'm trying to talk one of my kids into this duvet, but it's not going well. They have very definite ideas about their style. I'm trying to be accomodating, but I just don't know how to paint camouflage walls or decorate Xbox-style (nor do I want to try). I even showed one of my son's this picture and said,"Doesn't he look like a very happy boy in this room?"
It didn't work.
We have so many projects going on right now. On the bright side, we got so much done in our master bedroom this weekend. I can't believe how fast it's going! But, our new floors that were being installed upstairs last week came to a crashing halt. It's a long story, but there are some issues with the floor that I hope will be sorted out this week. Fingers crossed!