My husband and I went to a wedding in San Antonio over the weekend and we had to take a small detour to the San Marcos outlet mall on our way. I've been wanting to check out the Pottery Barn outlet for years, but we could just never fit it in our schedule in our past trips to San Antonio. I was so excited when we pulled in and not only saw a Pottery Barn, but a Restoration Hardware!
Sorry, my finger got in the way.
Yes, this place is pretty darn big. There was also a sale going on and probably still is for Columbus Day if you live nearby. For every $100 you spend, you get $25 off. That's a great deal for those who are buying furniture. I have to say I was pleasantly surprised at the prices in the store. Most everything is deeply discounted.
A couple of years ago I considered buying their Italian Hotel Bedding.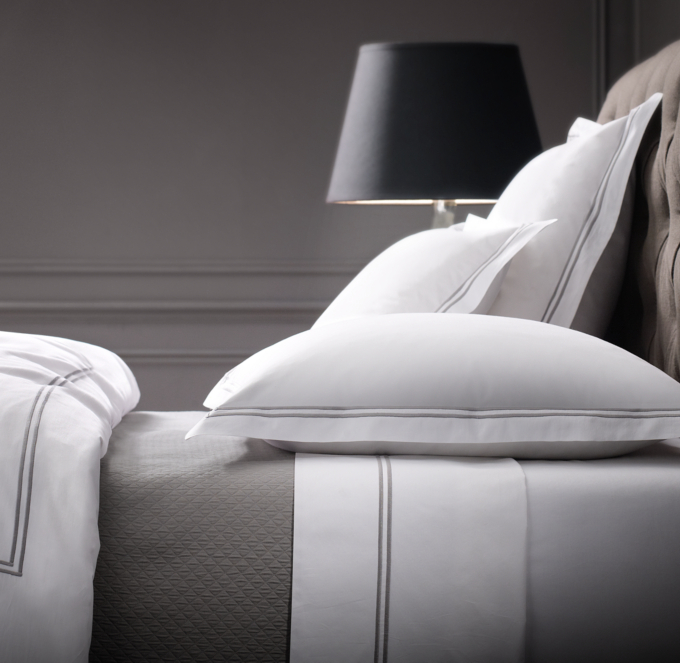 But, I cheaped out and went with something similar in style at Pottery Barn. I can't say I'm impressed with what I bought because the duvet is really rough. I wish I had gone with the RH bedding instead because it is so much softer. Imagine my surprise when I saw the Italian Hotel Bedding at the outlet. FYI, they also have the washed silk collection like the shams in the picture.
I really liked the duvet with the blue embroidery and found a matching bedskirt, too. I just couldn't find any king or euro shams to match. There were king shams in a blue print that would coordinate well, but I really wanted euros, too. I decided to hold off on buying the bedding because I know I'll be back.
My husband was excited because he found standard sized pillows for $7 each. He went to check out so I could browse some more after I handed him what I wanted to buy. When he walked up to me with three huge bags I was about to have a heart attack. What the heck did he buy?! I was relieved that it was just six of the pillows.
I've been looking for new chandelier shades to go in my breakfast room, but I had forgotten how pricey they could be. I wanted something in a linen or burlap fabric so these were perfect.
The price was also perfect. A package of ten was only $19.99. I only need six, but at least I'll have extras if they get damaged. I just have to remind my husband not to vacuum these, which is the reason why I needed new ones. I can't blame him because who would have thought it would put huge holes in the shades?
I was trying and trying to figure out where to put this lamp, but I just couldn't justify it if I didn't have a place for it. It was such a good deal at $114, plus $25 off.
After putting my husband's obscene amount of Restoration Hardware bags in the car we headed over to Pottery Barn all the while hoping no one would try to break in our car for six pillows. I can't say I was impressed. The discounts weren't that great. I found a few cute accessories, but I couldn't justify waiting in that huge line for just a few small things. I could also tell my husband was reaching his shopping limit. He found his pillows and he was ready to go. I had spied a Tory Burch outlet and had to get there before we ran out of time. I was excited to see they had an extra 20% off everything for Columbus Day. You might not get off work today, but at least you get good deals!
My eyes immediately went to this handbag.
The best part is it was almost half off of the retail price.
I wish I had time to visit more stores, but we had to check into our hotel and get ready for the wedding. It's just an excuse to go back!
Happy Columbus Day!