My desk finally arrived after over two months of waiting for it.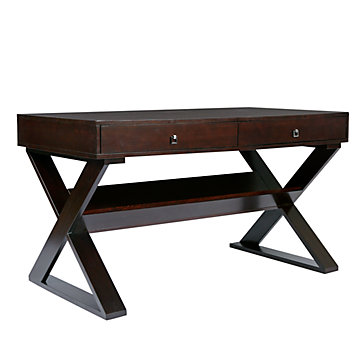 Unfortunately, it was damaged in several places when we unpacked it yesterday. I knew something was wrong when the delivery guys said they wanted me to carefully inspect it before they put it together. They said almost every delivery lately had been coming in damaged. The bottom piece that faces inside the book shelf had a weird white film on it. I said I could live with it since it faced inside. I thought I was home free until we noticed a huge chunk missing off the leg. That was a dealbreaker. I called customer service and it would be another two months until they could get a replacement. I was hoping they could just replace the leg, but they didn't have any in stock. I finally had to give up hope that this was going to work out and sent the desk back with the delivery guys. Ugh!!!
Back to square one! I needed a new desk and a new design plan. Great.
One of the desks we had been considering before we decided on the ZGallerie desk was the Bedford desk in antique white from Pottery Barn. I had liked it well enough, but I was concerned about the longer length. I initially decided not to get it because I wouldn't be able to fit any other furniture comfortably in the room unless we placed it against the wall, which meant our backs would either be to the door or the window. Floating the desk in the middle of the room seemed to be the best option. But, now that we were back to square one I was considering the PB desk again. I was a little less choosy about having to put it against the wall, but I was really concerned about the price since my 15% off Pottery Barn coupon expired.
I explained my dilemma to a friend and she reminded me to go on our town's community board to look for a desk. I had sold things myself in their classified section. Guess what I found?! The Bedford desk in antique white! Score! The kicker is that it was a third of the cost of the desk if I bought it new once shipping and tax were added. I was sure it was going to be gone, but the seller emailed me back and said it was still for sale. I went over and immediately bought it. There are a couple of wear and tear knicks on it, especially around the base. I'll just have to color match the paint. It doesn't have to be perfect because it is at the very bottom.
Here it is in the office:
Yes, it's still bare in there. I'm so glad I only bought the rug and lamp now. I can't say much else I had planned to buy would go with the new desk.
A closer look:
Not bad, eh? Maybe it worked out for the best in the end. This desk has filing drawers and the ZGallerie desk didn't. I really like the lighter color, too. When the delivery guys were unpacking the first desk I have to admit I was really shocked at how dark it was and it sucked a lot of light out of the room. The study feels so much lighter with this one in here. Saving all that cash is nice, too!
Now, I can finally start decorating!