I've been searching for artwork to fill my huge dining room wall. I found exactly what I want at ZGallerie.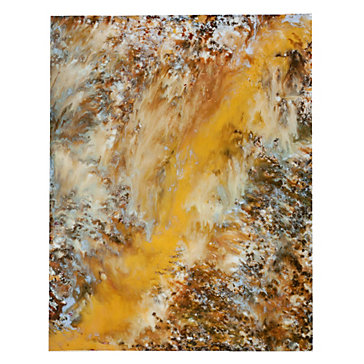 Pretty, right? Wouldn't it look great in my dining room? I just love gray and yellow together.
The only problem is that it's $899.95. That's a big problem! I decided to go to Homegoods and check there for artwork. I wasn't expecting to find anything because I only find things that I don't need there. You can imagine how my eyes bogged out of my head when I saw this:
Granted, it's not quite as awesome as the ZGallerie canvas, but it's large and abstract with the exact colors I was looking for. Here it is in my dining room:
Yay! It looks great.
Well...until you step back.
Ugh! That's a big wall. I'm going to have to add more artwork or maybe some sconces. I also need to tie in some yellow florals now.
I don't know if anyone else does this, but one of my first thoughts was how was I going to decorate for Christmas around yellow. It's only a month (or two for me) of decorations out of the year, but it guides a lot of my decorating decisions. I'm trying not to let that happen because I know you can work with almost any color during the holidays. I decided a gold theme (and maybe silver too) would be great for Christmas. Go yellow!
Those are new chandelier shades if you're wondering. I moved them from the breakfast room because they were too big for that chandelier. I think they look so much better in here.
I also found a great coffee table basket at Wal-Mart for $14.
I filled it with all of my usual coffee table clutter.
I don't know if you've priced these, but they can get very expensive. I've been eyeing one for the last year that's not much bigger for $79. I don't know about you, but I just couldn't spend that much on a basket.
Don't you just love when you find an affordable version of what you have your heart set on?