I have to admit this recent renovation cost us some major dollars. I need to save on decorating, but I want it to be worthy of spending all that dough on remodeling.
When I was looking at inspiration pictures for my entryway I stumbled across this one on houzz:
I love how the contemporary furnishings updates this traditional house.
But, I can't replace my furniture right now. I decided to give my old console table new life with accessories. My table is a little formal for my taste, but I decided to "bring it down" with plain glass hurricane candleholders. The best part is they only cost $6.99 a piece at Homegoods.
I had considered a pair of nice lamps with a graphic shade, maybe a Greek key or a chevron pattern. Maybe one day. What I really love about the hurricanes is that I can add vase filler for the changing seasons.
I found the mirror at Homegoods for $39.99. Not bad. I've had the ZGallerie horse for a while and borrowed it from the family room. I've seen similar ones at TJ Maxx for about $17. They aren't always the prettiest colors and may have some weird distressing on them, but a can of spray paint can fix that.
I decided to lean the mirror against the wall for now. The idea of putting anchors in that new and perfectly painted wainscoting just hurts my heart.
Now, if only one of these ottomans would go on sale at ZGallerie: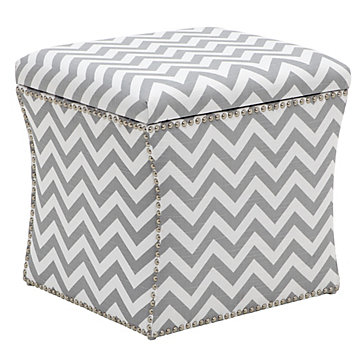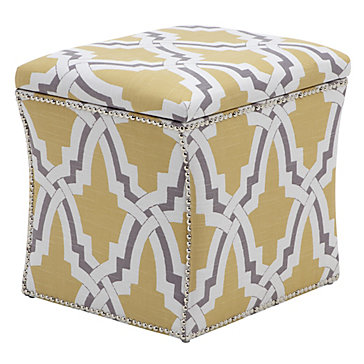 But, I'm happy with the way it turned out, especially since I spent under $70.